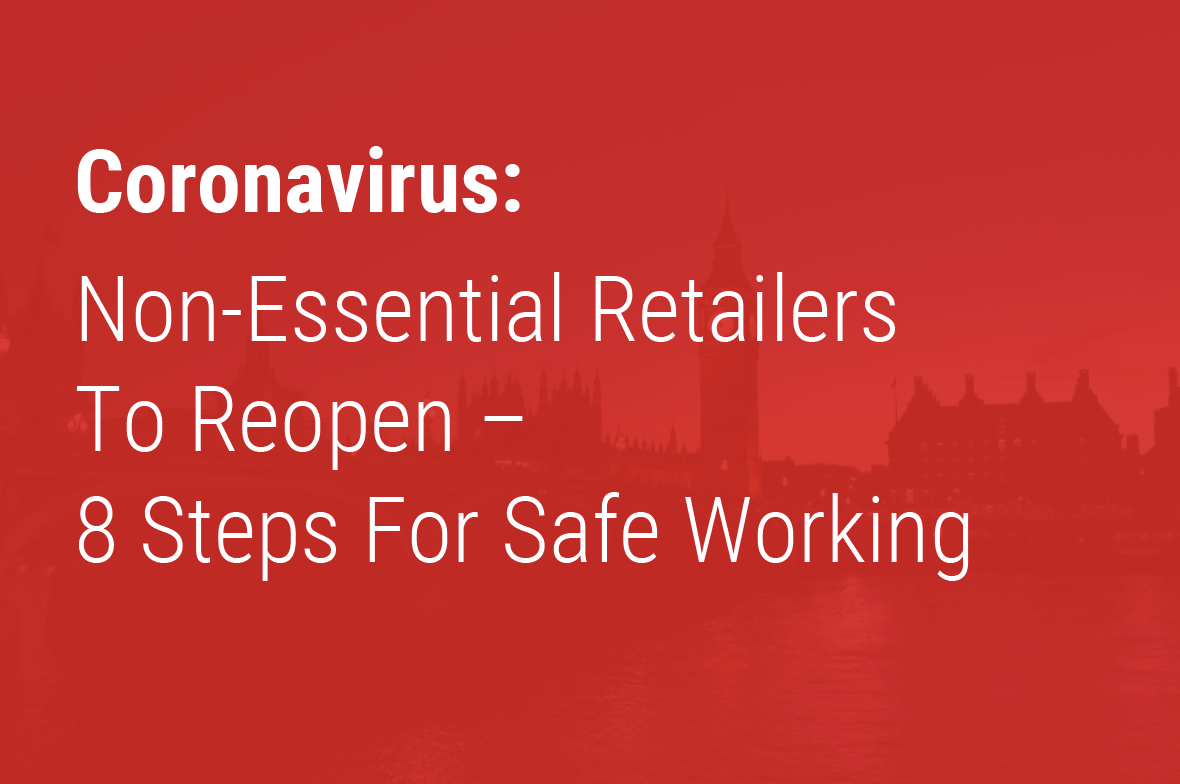 Boris Johnson announced non-essential retailers will reopen 15 June, but is "contingent on progress in the fight against coronavirus". 
To support local high streets and increase footfall a £50 million fund is set to help councils across England to put safety measures in place. 
But how do shop owners ensure the safety of their staff and customers?
We have Summarised 8 steps you should follow in accordance with the advice from GOV.UK. 
1. Think About Risk 
As an employer, it is your responsibility to minimise the risk to your employees' health and safety. Therefore, the risk assessment for your business must address the risks of contracting COVID-19. 
Read the guidance from the Health and Safety Executive to ensure your assessment is compliant. However, if you are self-employed or have fewer than 5 employees, your business assessment does not need to be written.
It is also your obligation to discuss health and safety with your employees. You will also need to consult with your health and safety representative or if you do not have one, a representative selected by your employees. 
How can you reduce risk?
Regularly wash hands and disinfect surfaces 

Keep 2m apart where possible

Use screen/barriers to separate people 

Use 'fixed teams' or 'partnering' so each employee works with only a few colleagues
2. Who Should be in the Workplace?
Before opening your shop, ensure you have reviewed which employers are essential to be in the workplace. When making this evaluation consider a plan for the minimum number of employees which are required in the shop for operations to be effective and safe. 
When deciding who will be in the workplace, you should also check if any employees are clinically vulnerable or clinically extremely vulnerable . For those who are clinically extremely vulnerable, it is advised they work from home. Whereas clinically vulnerable individuals are strongly suggested to work from home, but can be in the workplace but try to offer the safest available roles. 
For any employees experiencing COVID-19 symptoms or are living with someone who is, they must stay at home and self-isolate, as per the government guidance. 
3. Social Distancing 
Wherever possible, implement processes to ensure individuals are 2m apart. If tasks prevent social distancing you should review if they are essential. If certain tasks are unavoidable, take all the possible mitigating actions to reduce the risk of employees contracting COVID-19. 
Mitigating Actions
Regularly and thoroughly wash hands and surfaces

Reduce activity time

Use screen/barriers

Use back-to-back or side-to-side working opposed to face-to-face

Use 'fixed teams' or 'partnering'
Social Distancing Methods
Stagger arrival and departure times of employees

Use more than one entrance to the workplace

Provide handwashing facilities/ hand sanitiser at entry and exit points

Provide alternatives to touch-based security devices. 

Discourage non-essential trips by using radios and telephones 

Create a one-way system around the shop

Review current layout of your store

Use safe outside areas for breaks
4. Manage Customers 
Prior to the reopening of your shop, review how many customers are able to be in the shop whilst maintaining 2m distance from others. Do so by reviewing the floorspace and busy areas. One-way systems are an ideal method to achieve social distancing in shops. Throughout the store, use visual aids and signs to inform customers of the safety measures they must follow. 
Encourage customers to
Wash/sanitise hands as they enter the shop

Minimise the amount of products they touch whilst browsing 

Shop alone

Remind customers with children that they are responsible for their children to maintain social distancing 

Queue in safe outside areas, such as car parks 
5. Cleaning the Workplace
It is crucial the workplace is regularly and thoroughly cleaned. For objects that are touched regularly, such as self-checkouts and baskets, you should provide disposal arrangements for cleaning products. In cases where an individual is known or suspected to have COVID-19, then you must clean the workplace following the guidance of GOV.UK.
For shops which have fitting rooms, where possible they should be closed. If they must be used, then clean the fitting rooms regularly. Also, clothing should be cleaned after each customer and fitting assistance should be avoided to maintain 2m social distancing. 
6. Personal Protective Equipment (PPE) and Face Coverings
GOV.UK explains any PPE which is used for the intention to prevent COVID-19 is not beneficial and should instead be prevented through social distancing, good hygiene and fixed teams. The exception is clinical settings, such as hospitals. 
Therefore, employers should not encourage the precautionary use of PPE for COVID-19 in shops. However, if your risk assessment shows your employees must use PPE, then you will need to provide this free of charge. 
There are some situations which will benefit from employees wearing face coverings. Although research suggests face coverings do not protect you, it may protect others if you are infected and not showing symptoms. 
If you choose to supply face coverings, ensure employees
Wash their hands before putting masks on and off

Avoid touching their face or mask

Change covering if it is damp or if they touched it

Change and wash their face covering daily

Practice social distancing wherever possible 
7. Workforce Management
If possible arrange employees into teams or shift groups to minimise the number of people they come into contact with. You should also review employees' tasks which involve interactions with each other and see if you can implement different procedures. 
Also, to ensure employees are following correct safety measures, you should provide regular updates and clear instructions on how they can reduce the risk of contracting COVID-19. Using signage in your shop can also remind employees and customers of your new processes. 
8. Inbound and Outbound Goods
Shops must make every effort to ensure employees are social distancing and steps are in place to prevent surface transmissions when deliveries enter and leave the premises. 
Steps to follow
Minimise unnecessary contact 

Review methods to reduce the frequency of deliveries

Where is it safe to do so, use one worker to load and unload vehicles

Use signs to clearly communicate your safety measures

Use 'fixed teams or pairings'

Encourage drivers to stay in their vehicles.
EKW Group is a leading provider of accountancy, payroll and tax services based in Bolton. With a network of offices around the UK, we are perfectly located to serve your business, whenever you need us. 
We are here to help you navigate the business support options, find answers to your questions and put you in touch with the right schemes to meet your business needs. Call us on 01942 816 512 or email info@ekwgroup.co.uk
You can access online support direct here.